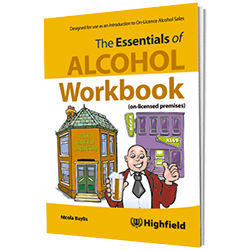 The Essentials of Alcohol Workbook (on-licensed premises)
Provides the knowledge required to sell alcohol for public consumption
Includes engaing 'Find Out' activities to motivate learners
Our fun illustrations make learning memorable
An effective and practical resource for training staff in-house
£1.35
excl. VAT
£1.35
inc. VAT
Buy 10
save £8.50
£0.85
excl. VAT
£0.85
inc. VAT
Buy 100
save £135.00
Best Value
£0.75
excl. VAT
£0.75
inc. VAT
Buy 500
save £725.00
Product Details
Updates
Preview
An essential reference guide for those working in on-licensed premises – such as pubs, clubs and hotels. It provides the knowledge needed to sell alcohol legally and responsibly. This book contains essential information on alcohol licensing, including several 'Find Out' activities that must be completed by readers. These activities typically take readers between 30 and 60 minutes to complete....
Read more
Illustrations

Full colour

Published

February 2022, 7th Edition
Update added in January 2021
March 2020
Includes updates on key information regarding minimum unit pricing.
---