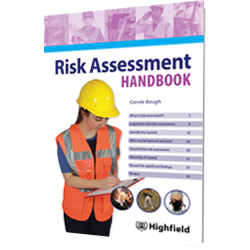 An ever-popular resource with learners and employers alike
Comprehensive and expert coverage of risk assessment
Ideal for use on L2 and L3 risk assessment courses
Perfect for a post-course reference
£4.40
excl. VAT
£4.40
inc. VAT
Buy 2
save £2.20
£3.30
excl. VAT
£3.30
inc. VAT
Buy 10
save £22.00
Best Value
£2.70
excl. VAT
£2.70
inc. VAT
Buy 100
save £280.00
Product Details
Updates
Preview
One of our most popular risk assessment training resources.
Written to support any learner taking a level 2 or level 3 risk assessment course, this popular handbook is based on our own extensive experience in the subject and written by our leading subject matter expert.
Designed to provide comprehensive support to learners, the Risk Assessment Handbook delivers the essential important knowledge all learners need for a good understanding of key issues around risk assessment....
Read more
Format

A5 firmback, gloss finish

Illustrations

Full-colour illustrations

Published

6th Edition, September 2022
Update added in June 2023
Updates for the 6th ed. Sept 2022
The updates for the 6th ed. Sept 2022.
---