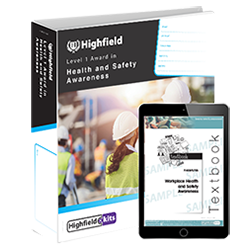 Level 1 Award in Health and Safety Awareness Highfield-kit
Part of our popular range Highfield-kits
A genuinely innovative way to support learners
Contains both a textbook and workbook
Genuinely enhances the learner experience
The perfect health and safety awareness training resource.
Highfield-kits have been innovatively designed to support learners through different delivery models, whether that's direct delivery, distance learning or blended learning.
Created to provide support to those learners working towards the Workplace health and safety awareness unit of a Level 1 award in health safety, the kit has been written by some of the leading authorities in the subject....
Read more