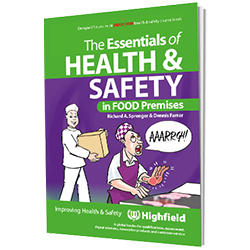 The Essentials of Health & Safety in Food Premises Book
Supports compliance with health and safety legislation
Assists carers in complying with health and safety legislation
Includes fun and quirky illustrations to engage learners
Ideal for use by training providers, individuals and employers
£1.35
excl. VAT
£1.35
inc. VAT
Buy 10
save £8.50
£0.85
excl. VAT
£0.85
inc. VAT
Buy 100
save £135.00
Best Value
£0.75
excl. VAT
£0.75
inc. VAT
Buy 500
save £725.00
This publication is ideal as an induction and awareness booklet on essential elements of health and safety for all food handlers. It includes a short test to demonstrate that the book has been read, which can also be used for training records. It is also ideal to be used by food handlers attending short health and safety courses.
Topics covered include:
• Health and safety policy
• Health and safety law
• Accidents and injuries
• Lifting and carrying...
Read more
Author

Richard A Sprenger and Martin Wordsworth

Format

A5 paperback, gloss finish

Illustrations

Full-colour illustrations throughout