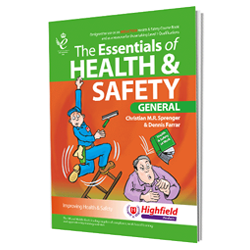 The Essentials of Health & Safety (General) Book
Supports compliance with health and safety legislation
Assists carers in complying with health and safety legislation
Includes fun and quirky illustrations to engage learners
An ideal easy-to-read text for in-house training for staff
£1.35
excl. VAT
£1.35
inc. VAT
Buy 10
save £8.50
£0.85
excl. VAT
£0.85
inc. VAT
Buy 100
save £135.00
Best Value
£0.75
excl. VAT
£0.75
inc. VAT
Buy 500
save £725.00
Product Details
Updates
Preview
Written by health and safety subject matter experts, this book provides clear guidance on the rules of health and safety that must be followed by all employees. With clear and amusing illustrations throughout, the amount of text is minimised to make for a really user-friendly guide.
This book is essential for both employers, managers and health and safety trainers alike....
Read more
Author

Christian M R Sprenger and Dennis Farrar

Format

A5 paperback, gloss finish

Illustrations

Full-colour illustrations throughout
Update added in December 2020
May 2018 Updates
This addendum includes the latest updates that learners need to use alongside this publication.
---