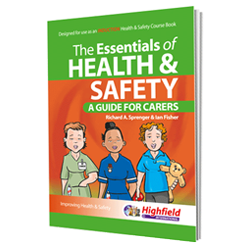 The Essentials of Health & Safety - A Guide for Carers
An essential read for anyone working in the care sector
Assists carers in complying with health and safety legislation
Includes fun and quirky illustrations to engage learners
Ideal for use by training providers, learners and employers
£1.35
excl. VAT
£1.35
inc. VAT
Buy 10
save £8.50
£0.85
excl. VAT
£0.85
inc. VAT
Buy 100
save £135.00
Best Value
£0.75
excl. VAT
£0.75
inc. VAT
Buy 500
save £725.00
This book provides clear guidance on the rules of health & safety that must be followed by all carers. With clear and amusing illustrations throughout, the amount of text is minimised to make for a really user-friendly guide.
We recommend providing all new carers with this book on or before their first day of work and allowing them the opportunity to discuss its content with their manager and ask them any questions they may have.
Topics covered include:...
Read more
Author

Richard A Sprenger and Ian Fisher

Format

A5 paperback, gloss finish

Illustrations

Full-colour illustrations throughout

Published

2015 11th Edition