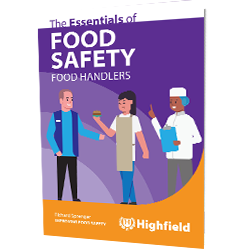 The Essentials of Food Safety - A Guide for Food Handlers
Written by world-leading food safety expert Richard Sprenger
Ideal for staff induction for new food handlers
Invaluable reference for trainers, learners and employers
Easy-to-read and covers the essential rules of food safety
£1.35
excl. VAT
£1.35
inc. VAT
Buy 10
save £8.50
£0.85
excl. VAT
£0.85
inc. VAT
Buy 100
save £135.00
Best Value
£0.75
excl. VAT
£0.75
inc. VAT
Buy 500
save £725.00
This induction level, mainly pictorial, full-colour booklet provides simple-to-follow lessons on the importance of food hygiene.
It is designed for use as part of a staff induction training programme for those new to the food industry.
Written by Richard Sprenger, The Essentials of Food Safety – A Guide for Food Handlers, is an ideal training resource to provide new employees with before they start, or on their first day of work....
Read more
Author

Richard A Sprenger

Format

A5 paperback, gloss finish

Illustrations

Full colour illustrations throughout

Published

2nd Edition, March 2023