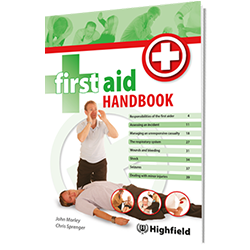 One of our most popular publications - over 1 million copies sold!
FREE front cover personalisation on orders over 250 copies
Designed for all learners taking the 1 day First Aid at Work course or requalification
Great for a post courses reference book
£1.85
excl. VAT
£1.85
inc. VAT
Buy 25
save £1.25
£1.70
excl. VAT
£1.70
inc. VAT
Buy 100
save £20.00
£1.60
excl. VAT
£1.60
inc. VAT
Buy 200
save £60.00
Best Value
£1.20
excl. VAT
£1.20
inc. VAT
Buy 500
save £350.00
Product Details
Updates
Preview
The First Aid Handbook has been a huge hit with first aid trainers for years. Its simple and engaging approach makes it the ideal resource for those looking to achieve an emergency first aid at work qualification. The handbook is full of up-to-date information, engaging illustrations and real-life images that bring context to learning.
Topics covered include:...
Read more
Author

John Morley and Christian Sprenger

Format

A5 firmback, gloss finish

Illustrations

Full colour illustrations & photos

Published

11th Edition, April 2023
Update added in October 2023
April 2023
The following updates have been made to the 11th edition of this publication.
---