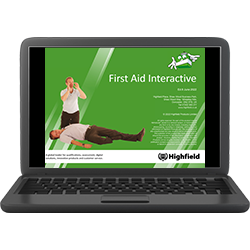 First Aid Interactive Training Presentation
The most engaging emergency first aid training presentation available
Covers all learning outcomes of the emergency first aid qualification
Available to download for PC and MAC
Comes with the 12-month FREE content update Highfield promise
This presentation has been written to support the effective delivery of level 3 emergency first aid courses. It is the ideal support tool for classroom or remote course delivery. It also eliminates the requirement for you to create your own presentation to deliver this course.
When you choose this presentation, you get:...
Read more
Author

John Morley and Christian Sprenger

Published

8th Edition May 2022
Update added in June 2022
May 2022
Provides an explanation of updates made to the First Aid Interactive Training Presentation in May 2022.
---