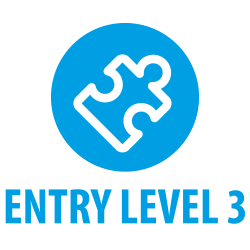 Highfield Entry Level Extended Certificate in Personal Development for Employability (Entry 3) (RQF)
A great way to introduce learners to the world of work
Gives learners choices in their learning
Offers great value for money
Outcomes clear and established from day one
Product Details
Qualification Documents
Improve your learners' employability options.
Ensure your learners have the best start in their career with help from the Highfield Entry Level Extended Certificate in Personal Development for Employability (Entry 3) (RQF).
Designed to give learners the opportunity to try a range of different but essential employment-based skills, plus a variety of work-related tasters.
Topics covered include:...
Read more
Assessment method

MCQ/Portfolio of Evidence/Practical Demonstration

Guided learning hours (GLH)

200

Learning aim reference

60362406

Qualification number

603/6240/6

Total qualification time (TQT)

270