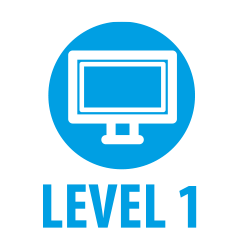 Highfield Level 1 Certificate in Digital Skills (RQF)
Developed by our digital experts
Prepares learners and supports current team members
Includes the ICT skills necessary for any business
Learner outcomes are clear and achievable
Product Details
Qualification Documents
Give your learners the perfect introduction to a digital career.
Digital and IT operations are vital to the day-to-day running of virtually every business today. And yet businesses often struggle to recruit people into digital and IT roles.
The Highfield Level 1 Certificate in Digital Skills (RQF) has been developed by our digital experts to provide learners and existing with the opportunity to develop their digital skills and be able to contribute positively to a business....
Read more
Assessment method

Portfolio of Evidence

Guided learning hours (GLH)

110

Learning aim reference

60349554

Qualification number

603/4955/4

Total qualification time (TQT)

187