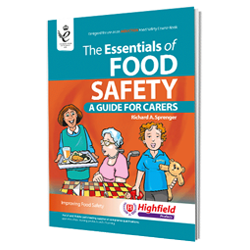 The Essentials of Food Safety - A Guide for Carers
Written by world-leading food safety expert Richard Sprenger
Ideal for staff induction for new food handlers in the care sector
Invaluable reference for trainers, learners and employers
Easy-to-read and covers the essential rules of food safety
£1.35
excl. VAT
£1.35
inc. VAT
Buy 10
save £8.50
£0.85
excl. VAT
£0.85
inc. VAT
Buy 100
save £135.00
Best Value
£0.75
excl. VAT
£0.75
inc. VAT
Buy 500
save £725.00
Product Details
Updates
Preview
This mainly pictorial, induction level booklet provides clear instruction on the essentials of food hygiene and safety for those working in a care setting. This booklet has been written by the world-leading food safety expert Richard Sprenger.
It should be issued to all food handlers on or before their first day of work. We recommend short weekly reviews to check their understanding followed by the opportunity to discuss and ask questions.
Topics covered include:...
Read more
Author

Richard A Sprenger

Format

A5 paperback, gloss finish

Illustrations

Full colour illiustrations throughout
Update added in January 2021
June 2018
---